If you are looking for a comfortable accommodation option for a quiet and isolated holiday away from the crowd, you can stay in boutique hotel. Boutique hotels, which stand out with their unique architecture and provide quality service with their expert staff, focus on the comfort of their guests. For business or leisure stays in the city of your choice, you can make a reservation in the city center or in a boutique hotel in touch with nature.
So what are the features of boutique hotels? What qualifications should a hotel have in order to serve as a boutique hotel?
The first feature that stands out in boutique hotels in the category of small hotels is the number of rooms. Boutique hotels should have at least ten or more than 60 rooms. Boutique hotel businesses should have a capacity of at least 50 people. Boutique hotels, some of which are members of hotel chains, generally serve as a single facility independent of a hotel group. Another important feature that distinguishes the boutique hotel type from other hotels is that these hotels have a personalized and sincere service understanding. The hotels that appeal to those looking for quality service usually come to the fore with their customer rooms in 5-star hotel standards.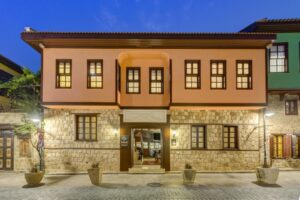 Boutique Hotel Architecture
Another feature that distinguishes boutique hotels from other hotels is their unique architectural and decoration approach.
When it comes to boutique hotels, the first thing that comes to mind is small and friendly hotels with few rooms, but the most important feature that makes a hotel a boutique hotel is its originality.
As there are boutique hotels with modern and contemporary designs, historical buildings that have undergone restoration are also included in the boutique hotel category.
For modern decoration lovers, there are boutique hotels that offer contemporary rooms decorated in the latest fashion, and boutique hotels that match the authentic architectural understanding of the region. For example, when choosing among Alaçatı boutique hotels, you can also choose more nostalgic places furnished with antique furniture.
While you can find boutique hotels with a capacity of 60 rooms, you can also consider accommodation options in the cave hotel category in Cappadocia.
Food and Drink Concept in Boutique Hotels
In order for a hotel to serve as a boutique hotel, it must have at least one à la carte restaurant. In addition to the à la carte restaurant serving Turkish or international cuisine, some boutique hotels may also have a bar or pool bar.
Boutique hotels, which usually host their guests with a bed and breakfast system, offer different price options for different concepts. For example, with the room-only accommodation option, guests pay only the accommodation fee, while with the breakfast-included option, they can enjoy the morning breakfast that the hotel will offer as a set menu or open buffet.
Boutique hotels generally do not provide service with the all-inclusive system. Some boutique hotels offer half-board accommodation packages to provide a price advantage to their guests. In this way, guests can stay in hotels at more attractive prices by staying with breakfast and dinner included.
What are the Facilities Offered in Boutique Hotels?
Although boutique hotels offer different privileges depending on the region and season of accommodation, some standard services must be available at the hotel. One of these conditions is the à la carte restaurant. One of the most important conditions for a hotel to be considered a boutique hotel is to have an à la carte restaurant.
There must be air conditioning in the common areas of boutique hotels. It is important that boutique hotel rooms have 5-star hotel quality beds and 5-star hotel room equipment.
Boutique hotels should have seating areas up to 25 percent of the bed capacity in reception and other public areas.
In the rooms; Room service and the printed menu of the food and beverages offered, the catalog containing the tariffs of the dry cleaning and laundry services, the illuminated and magnifying mirror in the bathroom, air conditioning in the rooms and wireless internet access are some of the mandatory services. .